KEEPERS RESOURCES

ROBO Bodi Arma Review
Hi Amazing Guys and Girls
I'm going to keep this short and sweet, just like me 🙂
I'm the proud owner of Obo ROBO Bodi Arma, well let's just say when the parcel arrived I was like a small child at Christmas, and was soon bouncing about in my new toy.
Why do I think it's so great???
1) When I'm wearing it I don't look like a midget sumo wrestler!!! ( that's because it's super slim lined).
2) Those occasional blows to the chest dont't feel like bullets and take my breath away; rendering me useless and the goal open to those goal hungry forwards.
3) I can move and jump around without it getting stuck on my shorts, (making it hard to get up fast from a slide), riding up (not covering tender parts) and twisting, which my previous body armour did (not sure about the make and model it was one I lent off my club).
4) It looks good with or without a a smock, also lets me have more choice on the smock front (well we all know how us girls love clothes). No need for super baggy or boring, I can becomne an individual with awesome designs :).
What's not so great???
I have a real problem with the shoulder pads, they seem to rub and dig into my skin, especially if I'm not wearing a long sleeved top. They seem to over lap the main body of the Arma. I've tried to bend and mould them to no joy :(.
I think the main reason for this is that I'm a girl, which means I have those things men don't have but love lol. This seems to push the Arma up and out causing gapping around the area (see pictures) meaning that the shoulders don't sit in the right place.
But hay I think I can get over this small niggle.
Maybe Obo could think about making a Bodi Arma just for us girls????
Enjoy 🙂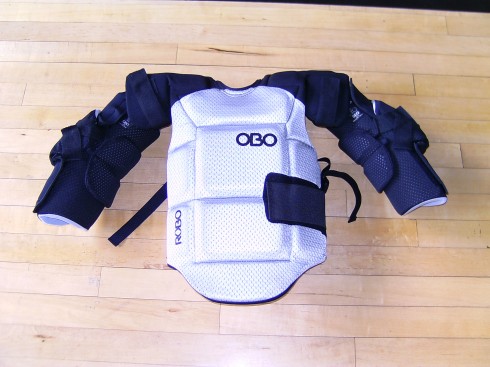 Side View of Bodi Arma

View from shoulder

Gap between chest and Bodi Arma

Better view of the gap

Comments