KEEPERS RESOURCES

OBO Hi-Control Legguard's Review
BY
YourShotStopsHere
May 11, 2009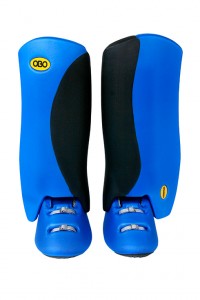 When I purchased my Hi-Control legguards (in my first ever Obo spending spree), I wasn't sure what to expect- apart from I had heard great things about them from other keepers. I find the hi-controls easy to run in and move about in but overall I was impressed by them because rebound is very good and the ball ends up being in a perfect place away from the attackers.
In the women's league that I play in the shots are very powerful so the rebound comes into use/effect. I am only 14 so I have to play junior hockey as well for my school, where the shots have almost no power in them, the ball just falls to the ground (off the legguard) where I can kick it away. At first I wasn't sure about how to effectively control the ball away but over the last few months I have learn't to control the ball away from the attacker(s). The legguards fit onto my legs and over my Hi-Rebound kickers perfectly and they don't twist when I dive or get up from a dive. When I am landing from a dive they protect my knees and other bones well (especially compared to other brands gear. A year ago I dislocated my knee from a high, dive landing in my old kit!!)
To improve the legguards I would make them in a numerous amount of colours and I would make the part where you put your leg, about 5cm shorter because sometimes it (depending on what shorts you wear) is a tight fit to have the legguards and the shorts in the right pace because they overlap. I can't really think of anything else to improve them because overall they fulfill my needs. I haven't tried the Hi-rebound legguards but at the moment so I can  not compare but compared to my previous legguards that I have used (such as: TK GX4, Slazenger school goalie kit, and the Grays G200) they are absolutely brilliant.
Alton Womens Goalie
Comments