KEEPERS RESOURCES

The number one
BY
Dan Pilgrim
April 8, 2013
So. You want to be the number one, right? You want to be the first choice, the one your team turns to, to play for them and get the wins? The one with the honour, the prestige and all the glory; the go-to-guy, the hero, the saviour of your team, the highlight reel shot stopper. You want to be considered the best around, maybe even the best of the best. Well, good for you. But do you know what cost it'll come at; the blood, sweat and tears that it will take you to achieve this dream? Because, let's face it, it's in no way easy and takes a lot of personal sacrifice and effort. It's going to be a hard fought, tough ride. You may even end up earning it after a battle with an incumbent (i.e. the current starter who is well respected by the team/club and been in the starting spot for a while now), but you might lose it to someone else looking to do what you're intent to achieve.
And with that being the same case for anyone that comes after you, you'll always have someone nipping at your heels trying to take that very same spot you had to compete for in the first place. But that should be motivation to keep onto it and beat them out from overcoming you and your spot, not to slip into lack of effort because you get down about things! Are you prepared to go the distance and go that extra mile, and always be giving all you've got no matter what? It's no easy task, but someone's got to do it; well, you've got to, if you want to get there! Life isn't (always) a bed of roses, if it is, you can't see the thorns (well, that's not to say life isn't enjoyable or isn't a gift, that's just admitting that sometimes it will be hard and hard work!). And, if you don't have to work hard for something, especially in sport, you're not going to be pushed to play your absolute best because you'll always be at cruising speed (or level!). So, in a way, it's important you have competition and really fight for your chances.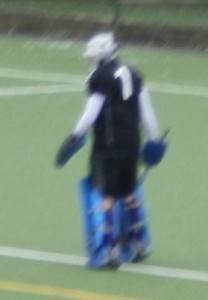 Not all goalkeepers wear the number 1 shirt, but still stake their claim on the starting position for their team or nation nonetheless.
Work ethic
How hard you apply yourself to something (whatever that may be, in life) has a big impact on things and the way people see you. Take training sessions: are you prepared to put in, even if you don't much out of it as a goalkeeper; focusing on the basics like stance, angles and attacking shots? You get out what you put in, as they, in any aspect of life! A lot of people (maybe it's just youngsters with the wrong attitude, or an assumption that talent means you don't have to work that hard!), seem to think you will get by on natural talent without the need to work hard at things. Let's just think about it for a moment. A goalkeeper with not all of the attributes of an elite goalkeeper can outdo one that does, purely based on work ethic, constantly pushing themselves to improve, and hard work. Essentially, because they are working hard, they should perform better (something I'll try and cover more in depth later). Compare this to a naturally talented goalkeeper who is capable of really dominating, but not doing so, because they aren't pushing themselves, in comparison to the goalkeeper edging them out because they are!
Talent doesn't necessarily give you a one way ticket (not sure that's the best phrase) to success. Similarly pure athleticism which hasn't been harnessed or concreted through technical understanding (take Tim Howard in his early days) can see a goalkeeper still making the saves and getting the job done, even if it isn't always pretty! But, coaching is helpful for refining and harnessing these attributes, so seeking out coaching help or going to summer camps should help you learn to improve and make these habits routine in the regular season. Either way, you still have to work for it! First, you need the talent, and then you need to push yourself as much as possible to keep developing and evolving up the scale of elite standard goalkeeper.
You have to work hard and you have to earn it! It doesn't come for free! You don't just rock up to a goalkeeper genie and say hi, I'd like to make my wish of being the world's best hockey goalkeeper a reality. A dream come true. Humour aside, it's a big effort and you need to graft and put in the hours to out graft and then outshine people who want that elite level starting spot just as much as you do (maybe they want it more, even!). Some people dream and some people go out and make those dreams real!! Also dieting (eating well, not slimming down!), not wasting time on things that could get in the way of sporting commitments outside of hockey, in order to be in optimum shape for games, is important. Also, staying in good athletic shape is important because you are retaining fitness levels and staying sharp.
Fighting it out
There is only one starting spot, it's not like you're a rolling sub for an outfield position. With one spot, you have to fight for it unlike anything else another player might have to go through in a club or team! And with the 1stXI spot, this is even more so. Sometimes, the only way in is to force yourself into the position and beat the other goalkeeper out of theirs. They may see it as a reason to 'up' own game, or even unfair (as they worked hard to get way they are; especially unfair if you do take hold of the spot), but you have a challenge on your hands regardless! Your attitude is everything, especially if you want to be the first choice, of a national league level club, for example! And even if you do manage to wrestle the starting spot off a team mate, the coach still has the right/chance to yank you out of a game or switch things up and drop you (back down the pile). Take Szcesny and Fabianski (who is the one actually getting the starts right now, in spite of the doubters, whilst Maonnone deputised for a string of games) at Arsenal.
If you have been the only goalkeeper around in teams/club as a youngster developing, then you may not be used to a stringent level of competition and get used to not fighting for your place. But once you climb the ladder and get to the highest rungs, you will soon realise how much of a fight you will have for the starting spot, or spots at the top levels within your club! Once you get to the elite tiers, you really are fighting for your spot.
If you have the wrong attitude and don't want to fight for it, then you're not going to get anyway or develop as a goalkeeper with the right skill set and right mind set! Once in the elite level, you'll quickly realise how much you have to want that opportunity to get where you want! Otherwise you will be outworked, outrun, outgunned (in terms of save making!) even and perhaps go back down the ladder because a situation has arisen that will change circumstances for you, such as another goalkeeper joining the club who has played at a higher level previously or has more experience than you do, thus affecting your positioning in the club tiers and chance for high level games.
Fighting for your place
Without going back and saying exactly what I said, through rephrasing or just rewriting it (and rewriting the "fighter" article from a while ago), I want to allude to how good you are versus how good people think you are or rate you as. What you don't want to do is end up "blowing your own trumpet" and thinking you're the best around when you still haven't proven that's the case. And getting overly confident and full of yourself to the point it's damaging to your game because you don't bring your 'A game' because you don't think you will have to work and be tested (not the same as being confident constructively and having buckets of self belief!). It's easy to play well for a few games (versus a season), and end up "over rated" simply because you have played some 'blinders', but if you can't play to this level consistently, that is the difference maker. In the sense that if you ended up hitting a bad patch and unable to bounce back, you may not be playing as you will get dropped for another goalkeeper that may be able to consistently play well versus 'streaky' wins and losses, because you're not used to fighting for a win, or struggle to bounce back after a bad game.
Playing without an ego
This may sound odd considering what I've discussed when needing to be 'cocky' and confident. But it is still important to remember yourself and your role within the team as a goalkeeper. The goalkeeper carries their team, not the other way round, but that doesn't mean they should get too 'big for their boots'! The "egoless approach", which is something ice hockey goalie analyst Justin Goldman has written about, is important very much so and equates to getting on with playing well and showing how good you are without needing commendations lauded on you. Actions speak louder than words! So show how good you are without saying so!! Something I might have missed in the 'cocky' goalkeeper article, but . A selfish attitude doesn't get you far and will annoy team mates. Also blaming others if . Team mates prefer it if you are open and take responsibility on board (takes the blame off their shoulders!) and .
Always improving
Another important thing when it comes down pushing for the first team place, is how you need to be constantly evolving versus staying as is and getting complacent, which you can read about in the write-up I did previously. Joe Hart will always say that he's "always looking to improve". He is never stopping in the way he wants to push himself and reach new heights and always get better. Rather than being happy with how things are. So, he might not be at the top of his game right now (neither is Reina), but his attitude speaks for itself. He is always looking to get better. He is not sitting around and saying 'I'm so great, look at me,  blah blah blah' or listening to people saying he's the, or one of, the world's best, he's going out there and working hard to make it happen. Versus not and being complacent, lazy and expecting such comments to just be given to you! Don't be lazy, be like Hart, have the heart to improve!!
Self analytical
Being analytical of your own game means being able to analyse your weakness and look to improve them, and even to work on refining your strengths. To step outside of yourself and critically consider how well you play. To be able to identify key areas and look to improve them. You can't improve if you don't think you don't have anything to work on! You can't reach perfection if you think you're perfect already. When you're not! At first you may not feel comfortable to think about yourself in this way, but you need to be assured and confident enough to do so. By looking at yourself in the mirror and considering how well you play or are playing during a season, you can improve greatly as you pinpoint things that need working on. It's not a case of being your own worst enemy, but a cool headed analytical means. This is case of personal reflection, a desire to improve and be the best player (and goalkeeper!) you can be. A positive rather than negative attitude or viewpoint. Sometimes, the only person who can analyse your performances (other than a coach or team mate or fellow goalkeeper at your club even), is yourself, especially if you don't have a goalkeeping coach to work with. So you need to be able to do so and improve your game and your level of analysis as you do so.
Be the number one!
Ultimately, not everyone wants to be the best in the world or the best at their club, just the best player (goalkeeper!) they can be. There's nothing wrong with that, at all, in fact, it's better to want to be the best at everything you can be rather than for anything else. If you are talented inherently, then pushing yourself to be the best you can is going to be make you one of the best around! Even if you don't think you can, you can still have the same mindset of that of an elite goalkeeper. Like people say and I stated, it's your work ethic and if you work hard, then coaches will notice it and you may also outwork other goalkeepers and rise up the ranks. Want to be the first option for team selection, want to outdo everyone else and want to make that spot yours and no-one else's! Don't just be happy with second best. A goalkeeper who expects to win games or train or play well, without putting in the effort is not getting to get too far! So, work hard, analyse, look to improve, and you should make the number one spot yours (eventually?!)!!
Comments