KEEPERS RESOURCES

Slide Tackling
BY
admin
October 20, 1999

There have been a lot of questions about what to do in situations where a keeper is faced with a forward bearing down on him or her alone. Most centre around what the keeper should do. There isn't a text book answer that says, "If the forward enters the circle with a five yard gap between him and his defender, at a 45′ angle to the goal and the ball on his front stick, the keeper extends his body in a prone position to his strong stick side at a rate of speed of 15 mph, bisecting the path of the ball at his midsection." That's certainly one way of handling the situation, but the fact of the matter is there isn't any one way to play any one situation, especially one on ones with the keeper and a forward.
When a keeper is faced with an unmarked forward breaking to goal, he has seconds to assess the situation and come up with a plan that will allow his team to succeed. First off, we need to qualify what success is. Success is not allowing your opponent to score, pure and simple. Having said that, how does a keeper go about succeeding? He does that by not allowing his opponent to make the play he wants. That comes by making a forward beat you in a path he doesn't want to take, by making him take a shot he doesn't want to take from a place he doesn't want to take it from, early or later than he wants to take it. Now, how do you do that?
A forward with the ball alone at the 25 can be a pretty intimidating site for a keeper. By the same token, a keeper poised and ready at the top of the circle can be equally intimidating. This takes us back to our plan. Before a forward can score, he's got to get into the circle. As a keeper, that gives me a boundary that if successfully defended, never allows a shot to happen. As the forward enters the circle, elements that give him the advantage are time, vision, control of the ball and speed. Those elements can also work against him. It's hard for a forward to have vision and control of the ball. When he's got vision, typically that's when the ball is off his stick. When he's got speed, the ball is either on his stick and his head is down, or the ball's off his stick. Those are the times when a keeper can win the situation.
One of the skills I can use to win the situation is a slide tackle. What are the elements of a slide tackle? The two big ones are timing and execution. As far as timing my tackle and positioning myself, I want to time my tackle so that the forward is just entering the circle. That means that I want to start my tackle two to three yards inside the circle. When taking a forward on top of the circle, I'm not just going out and dropping. Slide tackle means forward slide tackle. There is a lead up, and a follow through to the tackle. Timing is key and I've got to wait until the forward has committed to a direction. If the forward is going from my left to right, I have an ideal opportunity to tackle him strong stick side. As he goes from my right to left, I'll usually have to take him on my reverse stick.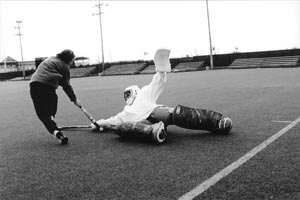 A strong stick tackle from the baseline.
Footwork is key in setting up the slide tackle. If I get too close to the forward on a slide, I miss the ball and take out the forward. If I'm too far away, the forward can pull the ball around me. By the same token, if I get wrong footed, I'm not going to be able to slide to the side I want. If I want to make a strong stick tackle, my last step is going to be off my left foot. As I push off my left foot, my right leg is out in front of my body as I go down. My goal is to make my body a big, sliding, horizontal block. To do that, I need to get down and horizontal quickly. I try to get my right leg out and get down on my right hip as quickly as possible while extending my torso out at the same time. I use my hip and elbow to brace myself as I go down. When I make my slide, my hips and shoulders are in a line perpendicular to the ground so that my block is as tall as it can be. If my hips and shoulders are angled back, the forward can throw the ball over or I risk having the ball deflect off and over me.
I like to line the ball up on my chest when sliding for a couple of reasons. If I line the ball up on my hands, the forward can beat me by pulling a yard to his left. If he does that on my chest, I can still tackle with my stick. I'll also adjust the grip on my stick in a one on one situation so that I use the full length of my stick. It's critical that if you do go tackle with your stick, you tackle through the line of the forward's pull. A common mistake is for the keeper to make his tackle parallel to the line of the pull and as a result, the forward runs around his tackle. Also, my upper body is a more substantial obstacle for a forward to run through Wedding Dresses .
Obviously a keeper should be well equipped if slide tackling is going to be a safe, productive part of his game. The skill requires courage. The thing we alluded to before was intimidation, and I'll go out on a limb and say the thought of a keeper coming after a forward at the top of the circle can be fairly unnerving. If you've never performed a slide tackle before, the thought of a forward running in to you can be pretty scary. The reality is that one on ones are a lot like the game of chicken. If you wait long enough most forwards bail. No forward likes to get hit by a flying speed bump and that's what a well-executed slide tackle is like. When you stop the ball on your chest, the forward usually ends up jumping over you and you now have the ball with time and space to clear it.
Tackling to the reverse stick is basically the same except to the other side. I'm setting up the tackle by pushing off my right foot and throwing my left leg and hip out. I'm trying to get my hip down and torso extended as quickly as possible. If there is a difference between tackling on the front and reverse stick, it's that I can't extend as far on my upper body side with my reverse stick. As a result, I may to have turn on to my stomach to get full extension if I'm pulled wide.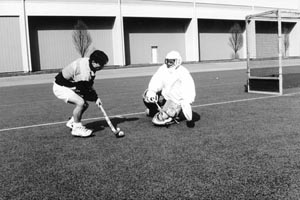 A slide tackle to the reverse stick side, from the baseline.
Whether, I'm slide tackling to my reverse or strong stick, I've got to be aware that a forward with vision may try to throw the ball over me as I'm sliding. It's important that I stay focused on the ball and the angle of the forward's stick as he comes in. While I'm definitely looking to get down and wide in a hurry, I still have to be able to deal with a flick over me.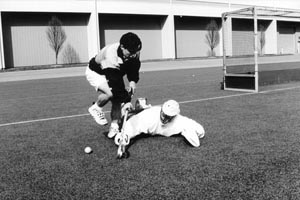 The tackle executed, fully extended.
If a forward has vision and control of the ball, a slide tackle isn't going to be in his best interests. A keeper has to try to stay with the forward until he's got the forward in a position where the keeper has the advantage. Going back to our initial criteria for success, that's taking a forward to a place he doesn't want to be. If I want a forward to take the ball to his reverse stick, I might want to overplay to my left, to bait him to go to my right where I can make a strong stick tackle. It might mean that I go out and stay up and force the forward to go around me. If I've got help coming back in the form of a defender, time may be all I need to win the situation.
If I'm trying to take on a forward upright away from the goal, it's important that I keep my steps small and quick. If I take big, long steps, it may seem that I cover more ground, but I also leave a lot of gaps as I move. I'm vulnerable between my legs and to any shot that's put on the leg that I have weight on. I want to keep my hips square to the forward so I can move in either direction. So I don't get wrong-footed, I try to keep my shoulders in a line inside straight up from the balls of my feet with my weight slightly forward. Ultimately, a forward should be able to outrun a fully padded keeper and a keeper will be forced to put on a skill. At that point the skill is a dive.
A dive is different than a slide. As we talked about before, a slide has forward momentum to it. A dive typically comes from movement to the side. If I'm taking a forward on upright, my dive will come about the time that my shoulders start to get outside the line of my feet as I move. That's about the time that my movement stops being controlled. A dive isn't just falling in the direction of the ball. A dive is an explosive movement where I'm pushing off both legs to get extension.
Once I've successfully stopped the ball, composure is important. If I've been able to clear the ball out of circle, then I'm up quickly and recover back to the goal. If I've only stopped the ball, it's important to take in the situation. Do I have help? If I do, I can just leave the ball for a team-mate. If I don't have help, I need to assess where and how to clear the ball, depending on the amount of time I have available. If I'm tackling on my strong stick side, sweeping the ball with my stick to the nearest sideline is the easiest, quickest method. If the forward has run past me, I may have the time to get to my feet and clear the ball with my kicker. If the forward is still right on top of me, I may not be in the position to get up. If getting up is going to allow the forward to put the ball under me, then I need to stay down. That doesn't mean I don't try to move to the ball, it just means that I'm moving from a prone position.
We've talked a lot about the technique aspects of one on ones; now, a few notes about the tactical aspects. One on ones can happen at the top of the circle or along the baseline. They can occur when there is one forward in the circle, or six forwards and several defenders. For me, a one on one situation is any situation where there is not a defender available to play the forward with the ball and the likely, resulting scenario is going to result in a scoring opportunity that doesn't favour my team.
If I'm going to take a forward on, I must communicate that to my defence so they can work with me, either to cover the goal or mark passing lanes that open as a result of my leaving the goal. When I leave the goal, I can't go out for the sake of going out. I've got to go out to get ball. There will be some situations where a forward has support. I must be aware of where that support is, as well as know where my help is coming from. I've got to be able to anticipate the shot as well as the pass. Sometimes that might mean that I've got to cheat a little trying to play both the pass and the shot.
If there is a recurring theme in many of these tips, it's that there are a lot of ways to play situations, especially one on ones. Several things help you be successful: know your strengths, work on your weaknesses and learn from your experiences. If I've been beaten in a one on one, write down what you did in the situation. The same holds true for when you're successful, write it down. There is nothing random about success. Do what works; work on what doesn't. It may take time, but if you work on situations methodically, consistent success is usually the payoff.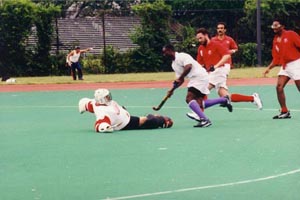 Making the tackle at the top of the circle (ignore that man in the undershirt, he's not helping!).
Good luck,
Jon
e-mail Jon
Please note that OBO together with Jon O'Haire hold copyright over any material appearing on tips pages. We welcome the printing and distribution of these tips, provided that they are not sold, or used for financial gain. This paragraph must appear on all printed or distributed copies. The photographs above must not be used in any form without express permission from Jon O'Haire.
Comments