KEEPERS RESOURCES

Lunging
BY
Dan Pilgrim
April 13, 2013
Lunging, as the technique has become known as (or is referred to as, because it is, after all, a lunging motion!), has become a new and useful addition to the saving repertoire offered to us hockey goalkeepers. An option a lot like making splits saves, the difference being related to the ability to drive with the head and maintain balance and thus keep rebounds down and controlled (versus bouncing up and away!). Rather than pushing out low and dropping, the goalkeeper stays upright and extends out with the leg, pushing from an upright position to extend out with the leg to reach the ball, as opposed to diving and hitting the deck and the complications of recoveries and consequential save making.
With a more controlled rebound and an easier push in to the motion, potentially, from a wider leg stance within what is often referred to as the 'X stance', it gives the goalkeeper a more technical approach to splitting across to save. Stereotypically speaking (over generalising is a bad idea, in any regard!), it seems to be a trend that has developed in Australia (Stephen Mowlam seems to have been a driving force, or at least played a part in its recognition, using a wide stance that incorporated this aspect of saving with the legs, whilst still being able to 'shut the barn doors' quickly and efficiently!) and from there, along with others making it popular, it seems to have been absorbed into styles across the globe. Kathleen Partridge, the former Australian international, who has produced the goalkeeping guide "Goalkeeping Skills and Drills" (a recommended read), wrote about the lunge as one of the technical aspects she covered in her book.
The 'lunge'
Whilst it sounds a little unorthodox or a scrambling save, it's not specifically a desperation   save attempt. Instead, you are essentially just going a bit further than you can reach simply stopping shots with your pad or kicker from a standing position. Say you can reach so far by simply reacting from within your stance, but, with a lunge, you are going that extra distance with your push out with your leg. Obviously this requires a little bit of extra flexibility, which stretching and Yoga and that kind of thing can aid and help out with, but if you don't have massive amounts of natural flexibility, you may prefer to stick to diving for those saves you cannot reach from your angle and positioning, with your stance, but it's always worth giving it a go and trying out new things to see if they work for you (as mentioned in the 'playing it your way' article).
Like the definition of lunge suggests, it's a saving motion that involves a position where one leg is positioned forward with the knee bent and flat foot of that driven lunged leg, with the other leg positioned behind it. And also happens to be used with regards to fitness exercise and cross-training! It's an explosive push to attack the ball and cut the angle wide of you. Unlike a more reactive, passive save where you simply respond to shots and turn your leg/foot to make the save from your ready stance, you are more so 'aggressively' pushing in to stop the ball. So, combined with the '30 degrees' and 'attacking the ball' saves, gives a greater option to push out and really attack shots that you are not otherwise able to reach from that reactive approach and stance; exploding out from the stance from the save.
This is sort of what a lunge save looks like, with a better illustration from an action photo:

http://www.gettyimages.co.uk/detail/news-photo/scotland-goalkeeper-abigail-walker-blocks-a-shot-while-news-photo/104789820?Language=en-GB
You can kind of see it, the lunge and its momentum in, this clip, although it's mainly out of shot in this clip at 0:14:25
And this clip demonstrates it all quite well. So, the goalie is young and teeny and tiny, but you get the idea from the way he is reacting to the shots! Essentially, you're not moving with footwork to get behind and save, instead, you're 'staying put' and planting and pushing out with the leg to get behind the ball to cover the angle and save.
Making the save
You should still be able to turn the kicker, as you normally would, during the save to help control the redirect and turn away the rebound to a safe area (where there are no attackers to poach it back, hopefully!). Balance remains the same, with you doing what you would in any standing save to keep the rebound down and controlled (I need to write a more in-depth explanation of this at some point!). Driving through and being explosive is important to getting distance on the rebound. Both feet plant as you push into the momentum, to help with staying upright. The back leg will also mirror the front to help in this regards.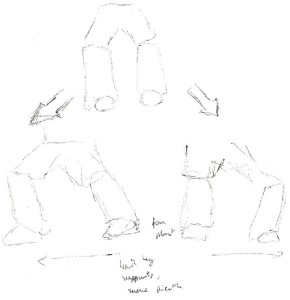 This is probably the worst sketch I could do (I'll come back and change it when I have more time!), but you get the rough idea of things (I think, or at least, hope!). Left leg is a better illustration of technique than the right!!
Pushing out
When you lunge, you are driving out with your leg in extension in order to reach the ball with the increased surface area coverage of the kicker/pad versus rhp/stick or lhp with a dive. You are pushing out explosively to reach the ball as it comes at you (especially if facing elite level, fast paced shots for instance). It helps if you have good reflexes! You want to be explosive and forceful, driving with power and precision and speed to make the save. But, more technically, when you push, you need to drive at it, keep your head up and over and then drive through, as you would with an attacking clearance say (keeping the foot down though!).
The following clip is about the closest I've got to finding a useful video example. At 0:34, watch how the goalkeeper pushes out further than his stance already covers, lunging out to stop and also attacking as discussed while doing so. Of course, he is using a wider spaced 'X stance' with his legs, but he is still pushing out wide in extension (obviously has less space to cover and less of a push to make, given the space his legs already cover!):
Pictures may also help illustrate and display things as well. The lunge should be looking like this, as you push out:
https://picasaweb.google.com/Kelburne/Mens3rdXIReservePlateFinal2012#5739527404743362994
To this:
https://picasaweb.google.com/Kelburne/Mens3rdXIReservePlateFinal2012#5739527511966229842
Head over the ball
Whereas a split, might see you drop awkwardly (going down with your upper half as you drop into the split leg position etc.) or lose balance slightly, theoretically a lunge, if done properly, should actually aid in balance and therefore provide a more controlled rebound and save. This is the added benefit of the way the lunge works and can be used. A lunge cannot go as far as a split (because you not positioning the leg out i.e. it's not being pushed down and flat, out; it's the foot that's being pushed out) in full extension, but has the beneficial edge regards balancing. In any case, you want to have your head over, for the save, to ensure balance goes down through your body positioning, for a controlled save and rebound.
'Planting'
When you push out and make the save, you 'plant' so that you get in the right position and help stay rooted and therefore balanced. This way, you can limit any issues with balancing. So, when 'lunging' to make a save, you also want to 'plant'. Can't go too far into this technically, as haven't yet worked out the absolute specifics, but 'planting' is common with any leg/foot save from a standing position. You want to 'plant' as you explode and push out. In essence, the foot is the lead, and you are looking to stretch it out and then plant it down as you extend, to get behind the ball on the angle and make the save. But, it's also important to 'plant' with the other stance to mirror weight and balance out.
A planted back foot helps to strengthen your rootedness so you don't tilt over either side as you drive out. Turning the foot in the direction of the lead leg should help retain balance as you don't turn your other leg away from that angle. If you do, you're half turned in the way you want and half not! So you are leaning wrong and turning your body away from the shot. But with both feet angled on that angle, you are ensuring you don't turn away, even in the slightest, getting all of your body in positioning behind the shot. Driving with the hips, this is(another topic I want to cover at some point!).
At 3:11 , notice how the goalkeeper slips, loses balance and falls back, thus taking them out of the 'play' and getting beaten. Instead, reinforcing balance with your back foot in a parallel with the angle of the driving foot, should help with balancing and ultimately making the save.
This is the kind of parallel and mirroring you theoretically should/would see within a lunge:

http://www.facebook.com/photo.php?fbid=458227380915163&set=pb.215515558519681.-2207520000.1364056381&type=3&src=https%3A%2F%2Ffbcdn-sphotos-h-a.akamaihd.net%2Fhphotos-ak-ash4%2F388520_458227380915163_1438802130_n.jpg&size=716%2C960
Saving option
The 'lunge' as a save is another 'tool' in the 'toolkit', a way of thinking espoused by a lot of ice hockey goalie coaches. In this sense, it gives you another option for your approach to save making and chance to play to your own personal strengths. But, it furthers the abilities of balancing within a splits style save. If you prefer to stand up on your feet and play a patient, responsive, upright game, it offers the chance to do so by extending out with the kicker for the save.
Whereas a dive close to the body takes you out of the game, at least for a little while as you rush to get back up, a 'lunge' sort of cuts corners in getting back in the game for a consecutive save. Unlike a split, it is theoretically easier to recover from and also has the added benefit of a more controlled rebound, with your head over and rebound thus kept down and not bouncing up and away! On shots that are outside your angle and cannot be reached just by using your position, and angle, and reacting within your stance, you should be able to reach them lunging and attacking the ball in forceful extension. If you are comfortable with the eye-co-ordination with your feet and have strong footwork and flexibility, you may prefer this over diving nearer to the body, where you are still up on your foot, with an easier process of getting to the next shot, immediately ready for the next stop you face.
Comments