KEEPERS RESOURCES

Champions Youth Cup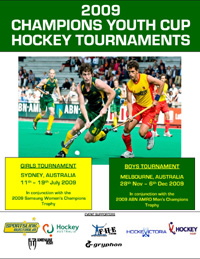 SportsLink Australia has sent us the following information…
My name is Alexis and i work for Ivan Boulton FIH grade one coach and director of SportsLink Australia. I"ve been asked to let you know about an exciting new hockey tournament which is set to get underway in July and November of this year, 'The Champions Youth Cup 2009'.
The Champions Youth Cup tournaments are endorsed by Hockey Australia, Hockey New South Wales and Hockey Victoria, the organising bodies for the Champions Trophy tournaments to be played in Sydney and Melbourne 2009.
The Champions Youth Cup tournaments coincide with the Champion Trophies in Sydney and Melbourne, and will offer talented young hockey players not only the opportunity to partake in this exciting event and play against Australian and international teams, but they will also be able attend the Champions Trophy, and meet some of their international hockey heroes!
We are pleased to be associated with these events and supporting our future stars, which is why we would very much like to see if any of your teams would be interested in registering a team in the event.
Since the days are counting down to the tournaments debut, and participating in this fantastic opportunity is something your team might be interested in, I would be more than happy to provide you with more of the relevant information on the event and optional extra's, as well as discuss the matter further so we can secure your team a place.
I have attached a copy of our promotional flyer which explains the event in more detail, and i'm happy to answer any questions you may have.
Moreover, If you happen to know of another team that would also benefit from, or be interested in partaking in Champions Youth Cup, it would be much appreciated if you could kindly forward this email to them.
Thank you very much for taking the time to read this, and i hope to hear from you shortly.
Sincerely, Alexis.
Alexis Laird
Mobile +61 415 497 692
www.sportslinkaustralia.com.au

View promotional flyer.
You will need the free Adobe Reader to open the PDF.
Comments