KEEPERS RESOURCES

Ice hockey elbow pads
BY
Dan Pilgrim
August 31, 2009
Ice hockey player's elbow pads are becoming a popular replacement to those produced for hockey, for elbow protection when 'padding down' for extra movement. With more and more goalkeepers wanting to 'pad down' to increase their mobility and flexibility for save making, without losing the important protection of the elbow, and hockey designs not always considered 'up to scratch', they are an easy and usable alternative to those produced by hockey companies. Ice hockey elbow pads are now currently worn by a number of international goalkeepers, as well as domestic top level national league 'keepers.
In Great Britain, for example, James Fair (England and GB international, who plays for Cannock) wears Jofa elbow pads, as did Simon Mason (Guildford, and well renowned ex-GB keeper). George Pinner (England and Beeston) wears Easton Synergy pads, whilst Lee Ible (Brooklands MU) wears Sherwood pads, and Welsh international George Harris (East Grinstead) wears Reebok elbow pads: all of these goalkeepers play in the England Hockey National Premier League. Ireland's current number 1 and Pembroke Wanderers 'keeper David Harte wears 'Mission' pads, whilst other Irish keepers wear similar styles. In Scotland, Kris Kane of Western Wildcats (who played in the Euro Hockey league's KO16 round-up) also wears the Reebok elbow pads.
Ice hockey elbow pads are not just popular in Europe, and are gaining use all over the globe. Kyle Pontifex (New Zealand's no 1 keeper) wears them, as do American international goalkeepers, like Kevin Segeren who played in the recent U21s Junior World Cup.
These elbow pads go over the elbow joint, fixed in place by a velcro strapping system; providing coverage of the bone and surrounding muscle. They are made of strong plastics, giving more than ample protection against hard shots you may face, like close-in low cut chip shots around the hips and body, or a well executed deflection, where you are likely to have your gloves and arms low, near to the body to block; leaving the elbow open to such shots.
With the game of ice hockey involving hard fore-checking (body hits) and rough play; the design matching the needs of facing shots when the player blocks shots with their body and taking hits, these elbow pads often come with extra coverage of the forearms; covering the vulnerable bones of the lower arm between the elbow and wrist (which can easily fracture by being hit by a hard shot). The forearms are often left exposed, which are vulnerable when going down against a strike, or charging down a player, with the arms lowered to provide extra coverage on low shots when playing percentages: the extra padding on the pads helps reduce these risks.
The Reebok 5k elbow pads are extremely popular with a lot of higher level goalkeepers in domestic leagues, including national conference, as well as internationally, with the beefy design being suited to taking the damage from hard and fast strikes, without causing further damage, or limiting manoeuvrability for saves.
Ultimately, elbow pads worn by the outfield players (forwards and defenders) of ice hockey increase the protection to the arm and elbow area, for field hockey goalkeepers who dislike the discomfort and bunching of full arm padding, but have concerns about the general protection provided by elbow pads, without compromising flexibility.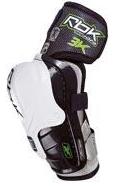 Advantages
Greater level of protection against shots/knocks, compared to the basic thin foam hockey elbow pads produced

Will cover forearm and elbow for increased coverage of the arm

Hard shell protects against direct blows to the elbow, limiting the chance of breaks

Fairly cheap second hand (can be more pricey if bought new)
Disadvantages
Harder to find – specialised stores for ice hockey equipment, or online shops

Tight elbow strapping can reduce full arm movement at the elbow joints for full range of movement 
Comments