KEEPERS RESOURCES

Game 1 vs France
BY
Ross Meadows
May 28, 2009
On the morning that a player makes his debut for Australia, a Kookaburra from the past officially presents the individual with his first jersey. When I was in this position in January against the Netherlands, I was lucky enough to be handed my first playing shirt by three-time Olympian goalkeeper Damon Diletti. The photo I've included shows Australia's most recent debutants with three legends from the past who are also part of our touring party. From left they are: Graham Reid (Assistant Coach), Glenn Turner, Ric Charlesworth (Coach), Bob Haigh (Selector), Jason Wilson and Graeme Begbie.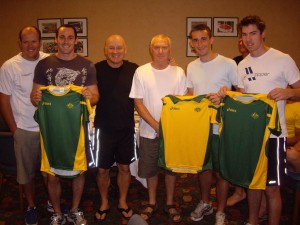 We had a 5-4 win against France in the first game of our European Tour. Things were not looking good at half time when we were 2-4 down, but the boys fought back well to record the victory. Simon Orchard netted two goals for Australia, while Russ Ford, Luke Doerner and Mark Paterson also got their names on the score sheet.
There are two keepers on the tour – myself and George Bazeley – and so far in Ric's time as coach he has always played his keepers for a half each during test matches. I understand this is still his intention, however George was sick in bed only a few days ago so I played 70 minutes today. The game didn't start off in an ideal manner for us after they scored from a penalty corner inside the first two minutes. It was a fast drag flick directed just inside the post and slightly above the ground to my stick side. I managed to save the next one, also to my right but high this time, before they scored a field goal shortly after with a deflection close to the net.
The final two goals conceded were French breakaways that left us exposed at the back. While it was very frustrating to concede four in a half it was a valuable learning experience for a young team that is building towards World Cup Qualifiers in August and the Champions Trophy in November. It was great to win, but as a team we will study the video footage of the match before game two in Versailles and hopefully learn enough to put in a more comprehensive performance in our next outing.
Cheers for now,
Ross

Comments