KEEPERS RESOURCES

Bianca Russell's choice of kit
Each and every keeper has different reasons for why they use certain pieces of OBO kit. We thought it would be nice for you guys to see and discuss what New Zealand goalkeeper Bianca Russell uses and why she chooses it.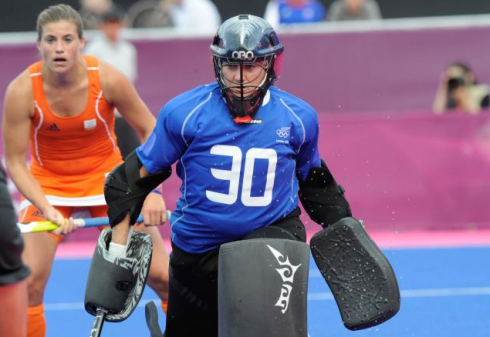 Q: List of Gear you use and why?
Everything on top is OBO, everything underneath is Mizuno – why? Because it's the best. Oh, and believe it or not, I wear a possum fur belt in cooler weather by Nature Support to keep my back toasty and warm, otherwise I'll get stiff and sore!
Carbon helmet – worth the extra weight for the supreme protection.
Robo armour – light, good fit, non-restrictive.
Robo shorts and overshorts – tried and true you won't get more mobility than this and they are more slimming than clown pants!
Robo custom logo pads and kickers – I go for hi control kickers for best control, protection and durability. They sit nicely over Mizuno Wave Ascend shoe – I'm often asked what shoe I use and why. This one is actually an off-road runner. It has a low centre of gravity and multidirectional grip allowing me to take off quickly – no slipping.
Stick, I've tried a few but gone back to the OBO fat boy, mainly because with the lighter sticks I started 'waving' at the ball and on occasion leaked goals against the men strikers purely because they hit the ball so hard, lighter sticks rely on wrist strength to stop the shot whereas heavier sticks all you have to do is get in the path of the ball with the right angle to control the ball nicely over the baseline. The depth of the fat boy also allows for sweep clearances without snagging the turf grain.
Under all the OBO kit I'm outfitted by Mizuno and typically use mid-thigh bike shorts, any shirt so long as it's light and quick-dry fabric but often compression gear in winter or when I'm needing the muscle recovery.
What do you use and why?
Always Helping
Comments